Putin visits occupied Ukrainian city of Mariupol
Vladimir Putin made a surprise visit to Mariupol, Russian state media reported on Sunday, in what would be the Kremlin leader's first trip to the Russian-occupied territories of eastern Ukraine's Donbas region since the start of the war.
Reuters reported that the visit came after Putin travelled to Crimea on Saturday in an unannounced visit to mark the ninth anniversary of Russia's annexation of the peninsula from Ukraine, and just two days after the international criminal court (ICC) issued a warrant for his arrest.
Mariupol, which fell to Russia in May after one of the war's longest and bloodiest battles, was Russia's first major victory after it failed to seize Kyiv and focused instead on south-eastern Ukraine.
Putin flew by helicopter to Mariupol, Russian news agencies reported, citing the Kremlin. It is the closest to the frontlines Putin has been in the year-long war. Driving a car, Putin travelled around several districts of the city in the Donetsk region, making stops and talking to residents.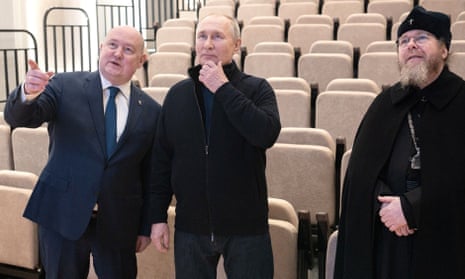 The Organisation for Security and Cooperation and Europe said Russia's early bombing of a maternity hospital in Mariupol was a war crime.
The Ukrainian president, Volodymyr Zelenskiy, has made a number of trips to the battlefield to boost troop morale and discuss strategy, but Putin has largely remained inside Russia during the war.
Russian media reported on Sunday that Putin also met with the top command of his military operation in Ukraine, including Valery Gerasimov, chief of the general staff.
Key events
Hello and welcome back to our continuing live coverage of Russia's war in Ukraine. This is Adam Fulton with the latest developments.
Vladimir Putin has visited Mariupol, Russian media reported on Sunday, in the Russian president's first trip to the Russian-occupied east of Ukraine since the war began.
Putin flew to Mariupol by helicopter, the Tass news agency reported, and then toured the city, at times driving a car, as well as speaking with residents.
Moscow's forces captured the city last May after more than 80 days of bombing in one of the war's bloodiest battles.
More on that story soon.
In other developments as the war reaches day 389:
Russian strikes killed two people and wounded 10 in Kramatorsk on Saturday, the regional governor said, accusing Moscow of having used cluster bombs in the attack on the eastern Ukrainian city. Pavlo Kyrylenko said a park had been targeted and "a dozen residential buildings" damaged. Agence France-Presse reporters heard about 10 explosions go off nearly simultaneously and said they saw a woman die at the scene from her wounds. Soon after, another round of explosions was heard in a neighbourhood 2km away.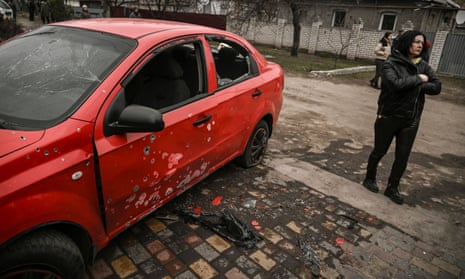 Russia launched a series of attacks on Friday, according to the Ukrainian armed forces. Seven homes in the village of Veletenske in the Kherson region were destroyed and a nursery was damaged on Friday, but no one was injured, it said. The update, which the Guardian has not verified, also said 10 Iranian-made Shahed drones had been shot down, and that Ukrainian forces had "repelled more than 100 enemy attacks".

Ukraine said some of the overnight drone attacks hit the relatively peaceful western region of Lviv. Dnipro was also targeted, as was Kyiv, where air defences shot down all attacking drones. Ukraine's air force said 11 out of 16 drones were destroyed.

The Black Sea grain deal was renewed, according to parties to the agreement. Turkey and the UN announced the initiative was extended, but did not say for how long. A spokesperson for Russia's defence ministry said it had notified other parties that the deal was extended for 60 days, while a Ukrainian minister said the deal was extended for 120 days.

Another 880 Russian soldiers were reportedly killed on Friday, according to unverified totals published by the Ukrainian army. Its general staff said that it meant more than 164,000 Russian service personnel had been killed since the outbreak of war in February last year. Another five tanks, seven armoured combat vehicles and eight artillery systems were disabled by Ukrainian forces, it said in an update posted on Facebook.

Russia's Wagner mercenary group plans to recruit about 30,000 new fighters by the middle of May, its founder has said. In an audio message on Telegram on Saturday, Yevgeny Prigozhin said that Wagner recruitment centres, which he said last week had opened in 42 Russian cities, were hiring an average of 500-800 people a day.

Russia would probably introduce wider conscription to boost its military requirements, the UK Ministry of Defence said. In its latest intelligence update, it said Russian Duma deputies introduced a bill to change the conscription age for men from the current 18-27 to 21-30. The law would probably be passed, it said, and come into force in January 2024.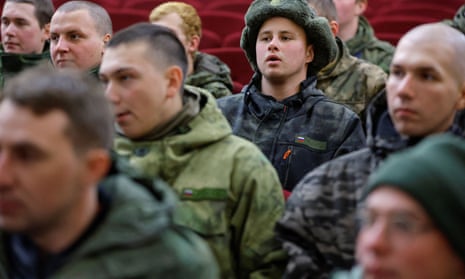 Senior Ukrainian and US security officials met via video link on Saturday, with representatives of Volodymyr Zelenskiy's government asking for further assistance, including more equipment, weapons and ammunition. Zelenskiy joined the call at the end of the meeting and discussed his forces' hopes to retake areas Russia has captured.

The US president, Joe Biden, said the international criminal court's (ICC's) arrest warrant for Russian leader Vladimir Putin was "justified". "But the question is – it's not recognised internationally by us either," Biden said, referring to the US not being a member of the ICC. "But I think it makes a very strong point."

The German chancellor, Olaf Scholz, also welcomed the ICC's decision, saying: "The international criminal court is the right institution to investigate war crimes … The fact is nobody is above the law and that's what's becoming clear right now."

The Russian president, Vladimir Putin, visited the annexed peninsula of Crimea to mark nine years since Russia seized it. Russian state news agency RIA Novosti said Putin visited an art school and a children's centre. These locations appear to have been chosen in response to the ICC's arrest warrant, which accuses Putin of being responsible for the abduction of children.

The Biden administration has quietly resumed deportations to Russia, an apparent reversal of the position adopted after Russia invaded Ukraine just over a year ago, when such removals were suspended, the Guardian has learned
Denial of responsibility!
NewsConcerns is an automatic aggregator of the all world's media. In each content, the hyperlink to the primary source is specified. All trademarks belong to their rightful owners, all materials to their authors. If you are the owner of the content and do not want us to publish your materials, please contact us by email –
admin@newsconcerns.com
. The content will be deleted within 24 hours.