'Missing half the equation': scientists criticise Australia over approach to fossil fuels | Climate crisis
The Australian government is "missing half the equation" in acting on the climate crisis by backing a shift to renewable energy but having no plan to get out of fossil fuels, according to an author of a new scientific review.
Prof Lesley Hughes is a leading climate change scientist and member of the independent Climate Council and government advisory body the Climate Change Authority. Hughes said there is a "cognitive dissonance" between Labor's stated commitment to addressing the problem and the pace at which it is moving.
The dissonance is most clear in it subsidising or approving new and expanded fossil fuel developments while arguing it supports trying to limit global heating to 1.5C – a goal agreed at UN climate conferences.
"The two things are completely at odds with each other," she said.
Hughes is the co-author of a Climate Council review, released on Wednesday, which found Australia should be cutting national carbon dioxide emissions by 75% by 2030. The government's legislated target is a minimum 43% cut (compared with 2005 levels).
The report said the country should be aiming to reach net zero emissions by 2035 – much sooner than the current 2050 goal. The finding is broadly consistent with other analyses that have found Australia should be moving more rapidly.
The review pointed to evidence that if emissions from the land and forestry were excluded, national emissions from the rest of the economy – mainly fossil fuel industries – have fallen less than 1% since 2005.
The Coalition and some media outlets have argued the country should back nuclear energy, a step that would further delay action on the climate crisis as the technology they are calling for – small modular reactors – do not commercially exist.
CSIRO says there are only two SMRs in the world – in Russia and China – and both were delayed and faced substantial cost blow outs.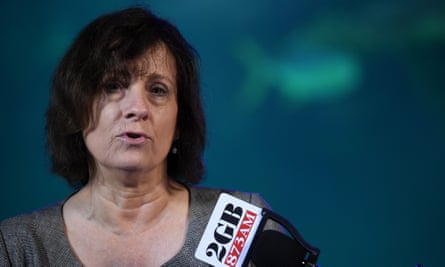 The Coalition is yet to release a nuclear energy policy, but has claimed SMRs could be built on the site of existing coal plants. The climate change minister, Chris Bowen, argued this could cost $387bn.
Nuclear energy is banned in Australia under laws introduced by the Howard government. The Australian Energy Market Operator has found an optimal electricity grid would overwhelmingly run on renewable energy backed by a range of existing "firm" sources that could be called on when needed.
'We could be a model'
The Climate Council report said pollution from electricity has started to fall as solar and wind energy has replaced generation at coal power plants – 40% of electricity in the eastern states came from renewables over the past month – but emissions from transport and major industry have continued to increase.
Turning this around would require deep cuts across the board. That would not be possible while new coal and gas operations were allowed to open and rely on "false solutions" such as carbon offsets to claim they are not adding to emissions, it said.
"Until there's a plan to just have a transition to renewables and not out of fossil fuels we are missing half the equation," Hughes said.
The report said the benefits for Australians of cutting emissions rapidly this decade include cleaner air, better mental health, more affordable and reliable energy and the creation of climate-focused jobs that could strengthen the economy.
On the current trajectory global heating would be expected to exceed 2C by the end of the century, a scenario that could lead to the large-scale collapse of marine ecosystems, up to 250,000 Australian properties being at risk of coastal inundation, deadlier heatwaves, worsening bushfire conditions, abrupt shifts in rainfall patterns and the collapse of food systems.
Australia is the 14th biggest national emitter of heat-trapping pollution, and the third biggest fossil fuel exporter. Hughes said it could not prevent worsening impacts on its own, but there was a strong case that the country could take a global leadership role.
It would involve stopping coal and gas exports, capitalising on the country's renewable energy reserves, and demonstrating to the world that a fossil fuel-based economy can make a rapid transition to cleaner and safer practice.
"We could be a model for the rest of the world," she said. "Right now, we stand at the precipice. Once we cross those tipping points, we cannot return, so it really doesn't get much more urgent than this."
Simon Bradshaw, the Climate Council's research director, said there was still a "tremendous amount" that could be done and leaders should be asked whether they wanted to be remembered "for inching ahead with incremental changes that fell catastrophically short … or for rising to the challenge and seizing all the opportunities".
'A special responsibility'
The Climate Council report coincided with more than 200 scientists, experts and campaigners, including several from overseas, putting their name to an open letter published in the New York Times calling on the Australian government to follow the advice of major global agencies and not allow new fossil fuel developments.
Organised by the Australia Institute, the letter was released before a UN-hosted climate ambition summit in New York on Wednesday. It said Australia had a "special responsibility to stop fuelling the increase in global emissions caused by Australian fossil fuel production, both in Australia and overseas".
A spokesperson for Bowen said the government was delivering "strong and urgent action on climate change and the massive economic reforms to get there", including legislating targets and reforms to the safeguard mechanism, requiring action from large coal and gas facilities and heavy industry.
"Our plans are ambitious but, importantly, they are also achievable," the spokesperson said.
Denial of responsibility!
NewsConcerns is an automatic aggregator of the all world's media. In each content, the hyperlink to the primary source is specified. All trademarks belong to their rightful owners, all materials to their authors. If you are the owner of the content and do not want us to publish your materials, please contact us by email –
[email protected]
. The content will be deleted within 24 hours.