Is this year's NCAA tournament as wide-open as it's ever been?
It is. Alabama were named the tournament's top overall seed despite losing five games, two more than fellow No 1 seed Houston. The West region is widely considered a gauntlet that could produce an unlikely Final Four side and pundits can't even agree on a favorite Cinderella team. Get ready for it to get weird. Gabriel Baumgaertner
It may be a tad bit of hyperbole, but there doesn't seem to be much of a consensus among who's really the favorite, especially with the top overall seed Alabama mostly making headlines for the most tragic possible reasons. From a storyline standpoint, there's less buzz around this tournament than last year's, which climaxed with UNC and Duke meeting in the Final Four for Coach K's swan song. Hunter Felt
Even accounting for the steady churn atop the national rankings all season, it's hard to remember a tournament where the teams at the top faced more questions. Uncertainty reigns: from injury woes (Houston, UCLA, Texas, Tennessee) to the ongoing murder case involving two current Alabama players as witnesses. Bryan Armen Graham
In a wild year which saw the preseason No 1 team in the country not even make the tournament – North Carolina, which returned four starters from a team that reached last year's national championship game – it certainly feels as if there is not a clear-cut favorite to win it all. However, that doesn't mean there hasn't been consistency towards the top with teams like Purdue, Houston and Alabama all hovering around the top of the rankings throughout the season. Nicholas Levine
Player to watch
Brandon Miller, Alabama. The Crimson Tide are expected to make a deep tournament run and Miller, a 6ft 9in freshman who averaged nearly 20 points and over eight rebounds, is their leader. He has also been connected to a deadly shooting near the Alabama campus that led to capital murder charges against former Alabama player Darius Miles. Authorities have not charged Miller with a crime, but the conversation will receive greater attention should the Crimson Tide reach the second or third weekend of the tournament. GB
Zach Edey, Purdue. Bad news for those of us who follow college basketball with our eyes on the NBA draft. This year's surefire No 1 pick Victor Wembanyama plays overseas in France's professional league. Let's instead go with Purdue's Edey, a 7ft 4in big man who is the current favorite to win the Naismith Award. HF
Brandon Miller, Alabama. The Alabama star is widely tabbed as the No 2 pick in the NBA draft behind the French phenom Victor Wembanyama. His role as a witness in the Jamea Harris murder trial will also draw greater attention the farther the Tide advance. BAG
Tyler Kolek, Marquette. The 6ft 3in point guard, who was recently named the Big East player of the year, does a little bit of everything as he fills up the stat sheet for the second-seeded Golden Eagles. Doug Gottlieb compared Kolel to my all-time favorite college player: Pepe Sanchez out of Temple. Let's see if Kolek can lead the Golden Eagles on a deep tournament run like Sanchez did in 1999. NL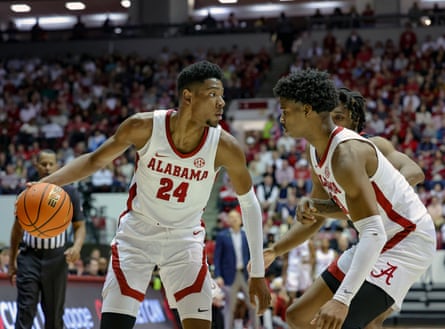 Dark horse team to watch
Memphis. The Tigers defeated No 1 seed Houston last week to win the AAC tournament and enter in a tremendous run of form. Though they face an extremely difficult first-round test against Florida Atlantic (who finished the season 31-3), senior guard Kendric Davis is one of the nation's top scorers and is complemented by a dynamic forward in DeAndre Williams. Led by head coach Penny Hardaway, a Memphis native and alum who starred for the Orlando Magic in the 90s, the Tigers could make a surprise run if they can get out of the first round. GB
Kentucky. Has John Calipari really not won a NCAA tournament game since 2019? The sixth-seeded Wildcats are hardly one of the likeliest Calipari-led teams to make a huge March Madness run, but they are getting hopeful injury news on the eve of their first game on Friday. HF
Kent State. The Golden Flashes slow the game down, take care of the ball and crash the glass with enthusiasm, creating a second chance on 35.9% of their possessions. They've already shown they can hang with the nation's best, playing Houston and Gonzaga down to the wire in their arenas earlier this season. And they'll be in with a good but not great Indiana side from a Big Ten conference that's underperformed in the tournament in recent years. BAG
San Diego State. The Aztecs always defend at a high level and this year's team is no different. With incredible size and length, plus the luxury of always having fresh legs because of their depth (they can go nine or 10 deep), they'll be able to give Virginia's offense fits if they can make it to the second round. Brian Dutcher, who took over for the coaching legend Steve Fisher, has dominated in the regular season and is looking to finally make a tournament run. This is his best chance yet. NL
The most vulnerable of the top seeds is …
Purdue. If any team can limit unanimous All-American Zach Edey – he averaged 22.3 points and 12.8 rebounds per game – or he gets into foul trouble, then Purdue will be vulnerable. They also have the most difficult road of any top seed. Edey is the closest thing the tournament has to an unstoppable player, but it's unclear how well Purdue can play if he struggles or has to sit for an extended period. GB
Kansas. Believe it or not, it might be the Jayhawks. The top seed in the Midwest looked vulnerable last time we saw them, losing to second-seeded Texas in the Big 12 tournament, 76-56. Even if this was a wake-up call, look for other teams to be gunning for the right to defeat last year's champions. HF
Purdue. Houston's injury woes could portend an early exit, but the Boilersmakers were done no favors by the committee. They'll have a huge fight on their hands in Sunday's second round against Penny Hardaway's wildly under-seeded Memphis side. BAG
Houston. While the Cougars have had an incredible year and may be the most physical team in the tournament, I worry about them getting out of the first weekend. The health and availability of star play Marcus Sasser is unknown at this time. Without him, the Cougars did not look like themselves in the conference championship game against Memphis. Another concern is their strength of schedule is weak compared to the other top seeds and they will face a team who is battle-tested in the second round: either Iowa (Big Ten) or Auburn (SEC). NL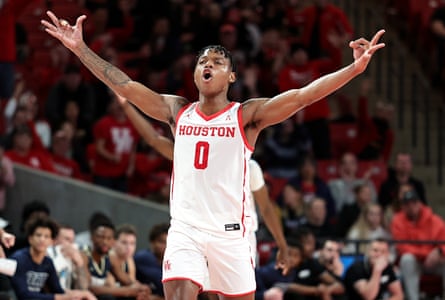 One bold prediction
No 1 seeds fall hard and fast. A maximum of one No 1 seed will make the Final Four and two No 1 seeds will be out in the first weekend. Defending champion Kansas will square off against a highly regarded coach in the second round – either Arkansas's Eric Musselman or Illinois's Brad Underwood — while Purdue will face either Memphis or Florida Atlantic, widely considered two of the hottest teams in the country entering the tournament. GB
Gonzaga reach the Final Four. Does this count as a bold prediction? A No 3 seed winning its region wouldn't exactly be a massive upset, but it would be fitting if after years of coming into the tournament overhyped and disappointing on the big stage, the Bulldogs go on a huge run once counted out. HF
A pair of 13th seeds get lucky. For only the fifth time in the modern era (and second time in two years), multiple No 13 seeds will spring upsets as Furman outgrind Virginia and Kent State see off Indiana. BAG
Drake make it to the second weekend. If we want to pick a double-digit seed to win a game or two, history tells us we should go with a 12 seed. This year I like the Drake Bulldogs to upset Miami in the first round. Drake are coming off a conference tournament championship win where they routed the No 1 seed Bradley by 26 points, while the Hurricanes were upset in the first round of the ACC tournament by ninth-seeded Wake Forest. The Bulldogs have caught fire at the right time and if they can get past their opening game, I like their chances of surviving the weekend. NL
Final Four
Arizona, Memphis, Houston, Gonzaga. GB
Alabama, Purdue, Houston, Gonzaga. HF
Alabama, Tennessee, Texas, UConn. BAG
Arizona, Purdue, Xavier, UCLA. NL
The winner will be …
Arizona. The Wildcats play fast, they can score inside or outside and they defend the interior well. With five starters who average more than 10 points per game, a veteran point guard in Kerr Kriisa to control the offense and two burly rebounders in forward Azoulas Tubelis and center Oumar Ballo, coach Tommy Lloyd has the depth, scoring and power to deliver Arizona their first national title since 1997. GB
Alabama. All year long, Alabama's winning basketball season has been understandably overshadowed by tragedy. Despite the ongoing criticism about how the school has protected star player Brandon Miller, the Crimson Tide were able to secure the top overall seed. This team beat Houston 71-65 once back in December, so they could be favored in a potential championship game rematch. HF
Alabama. There are only two teams that I'd rate ahead of the Crimson Tide if they were at full strength. One is UCLA, but a punishing draw along with injuries to Adem Bona and defensive star Jaylen Clark will be difficult for the Bruins to overcome. The other is Houston, but those sexy efficiency numbers on both sides of the ball are called into question by their ho-hum strength of schedule over the course of the season and Sasser's recent injury. That leaves Nate Oats' well-rounded group from Tuscaloosa, who have stayed the course even as controversy swirls. BAG
Purdue. Matt Painter has to be talked about as one of the best active coaches in the men's game today. He consistently gets his team playing with toughness and togetherness as they defend and execute at a high level. To win this tournament, history shows that you have to have both an efficient offense and defense, and the Boilermakers, with their combination of skill and size (7ft 4in center Zach Edey), will present trouble for any potential matchup they will face. Painter has all the pieces in place to cut down the net on Monday night for the first time in his career. NL
Denial of responsibility!
NewsConcerns is an automatic aggregator of the all world's media. In each content, the hyperlink to the primary source is specified. All trademarks belong to their rightful owners, all materials to their authors. If you are the owner of the content and do not want us to publish your materials, please contact us by email –
admin@newsconcerns.com
. The content will be deleted within 24 hours.