MPs even welcomed maskless 1972 Summit Series players, who are now seniors and in the most vulnerable group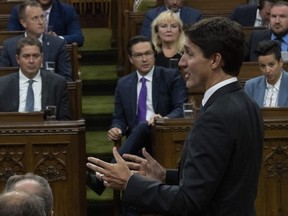 Article content
On your typical flight from Toronto to Calgary, there will be about 175 passengers if the flight is sold out, plus the flight crew. Each of those passengers will be required to be masked for the entire flight for what is still described as keeping people safe.
Article content
Yet on Thursday, in the House of Commons, most of the 338 MPs elected across Canada were in the House without masks on. Unlike previous sessions during the COVID-19 pandemic, I didn't spot a single mask while watching the broadcast, regardless of which party was featured on camera.
Article content
Shortly after Question Period ended, the MPs assembled in the House welcomed at least a dozen players from Canada's 1972 Summit Series. The players walked around the chamber greeting MPs from every party, shaking hands, stopping to chat — and again there was not a mask to be seen.
Did I mention that these players are elderly, among the most at risk from COVID-19? Former NHL star and Liberal Senator Frank Mahovlich was in the group and he's 84 years old. The man called out more than others for scoring the game winning goals in games 6, 7 and 8 was Paul Henderson, who is 79.
Article content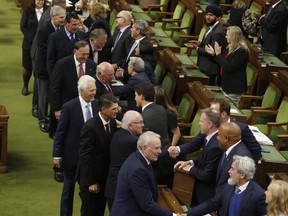 I don't mean to be mean or impolite, but if the House of Commons can bring in a bunch of seniors, in fact, senior seniors, and no one is wearing a mask, then why do we need them on planes?
For those that haven't been following the stats, those over the age of 60 – vaccinated or not – are the most at risk from COVID-19. For example, of the 1.4 million documented cases of COVID in Ontario since the beginning of the pandemic, just 19% of all COVID cases have been in those over 60 while that same age group has been responsible for 68% of all hospitalizations and 92% of all deaths.
If you haven't been to Parliament before, a good number of MPs are over the age of 60. All of this leads me to ask, if we can have Parliament meet in person, without masks, and a bunch of elderly hockey players can stop by, all without masks on, why do we need masks on airplanes in Canada?
Article content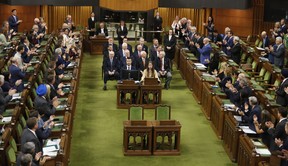 Most counties in the world have dropped these measurements already and Canada should as well.
What I am told, and reported on last Sunday, is that with the government ready to drop vaccination requirements, random mandatory testing and the ArriveCan app, masking was still up in the air. While most cabinet ministers involved in the issue were onside with dropping all remaining restrictions/requirement, Health Minister Jean-Yves Duclos was not in favour.
RECOMMENDED VIDEO
The final decision went to Trudeau, who was facing pressure from across the maskless Liberal caucus – especially those with major airports in or near their ridings – to drop everything. Yet Trudeau doesn't want to embarrass Duclos by overruling his minister on all counts.
Article content
Provinces dropped COVID restrictions months ago and none are showing signs of bringing any back. The Trudeau Liberals have been holdouts on COVID measures both here in Canada and on the international scene.
"The pandemic is over," U.S. President Joe Biden told 60 Minutes last week while admitting that COVID is still with us.
LILLEY: ArriveCan to be optional, other COVID travel measures gone in weeks?

LILLEY: Poilievre gets his first chance to go toe to toe with Trudeau as leader
Right now, American airlines leaving Canadian airports often allow passengers to take off their masks as soon as the doors close for take-off. Canadian airlines heading to American or other foreign destinations are required to enforce the masking rule until passengers leave the plane, a situation the airlines call unworkable and unenforceable.
Let's hope that when the rest of the travel rules surrounding ArriveCan, mandatory vaccination and random testing expire next week that the masking requirement is lifted or becomes optional at the same time.
It's the right and logical thing to do.
Denial of responsibility!
NewsConcerns is an automatic aggregator of the all world's media. In each content, the hyperlink to the primary source is specified. All trademarks belong to their rightful owners, all materials to their authors. If you are the owner of the content and do not want us to publish your materials, please contact us by email –
[email protected]
. The content will be deleted within 24 hours.