One of the fruits of getting on a train is that it makes me want to chat. So instead of gazing at Kent as we proceed to Paris from London, I talk to my neighbour. Martha grew up in San Francisco, studied in Oregon, and puts syrup on everything. When we part ways on the concourse of Gare du Nord – she to lunch with a friend from Wisconsin, me to amble around before continuing towards Turkey – she says the best things about the US are Taylor Swift and meatloaf. It's good to talk.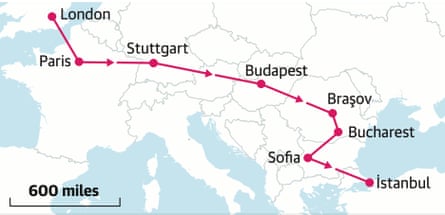 With just two hours to play with, I cold-shoulder the signature attractions and make a beeline for Shakespeare and Company bookshop on the Seine, where I once slept next to the poems for three months in my 20s while working on my first book. (The scheme is called Tumbleweeding and offers shelter to writers in exchange for helping out in the shop.) By heading there I'm being hopelessly nostalgic, but in the event the queue to enter the shop is round the block and I don't make it inside. The search for lost time goes on.
Next stop, Stuttgart. The doubledecker TGV towers above the land it cuts through. Lowly fields go by in a flash, and so do Nancy, Strasbourg, Noisy-le-Sec. It's been eight hours since London, and yet it hardly feels like 10 minutes. Train journeys can be spellbinding like that: clock time seems to melt away. Mind you, it's no utopia in coach 13. A toddler three rows back has been kicking off since Karlsruhe.Stepping off the train at Stuttgart, the first thing I notice is the lack of a station (it has been levelled in readiness for a new one). The second thing I notice is that the city's architecture is anything but uniform. Parts suggest Bath, others Milton Keynes, others the Tirolean Alps. The third thing I notice is a lady offering free hugs on the main square. I give her a cuddle and in return she informs me that the red-light district is good for Japanese food.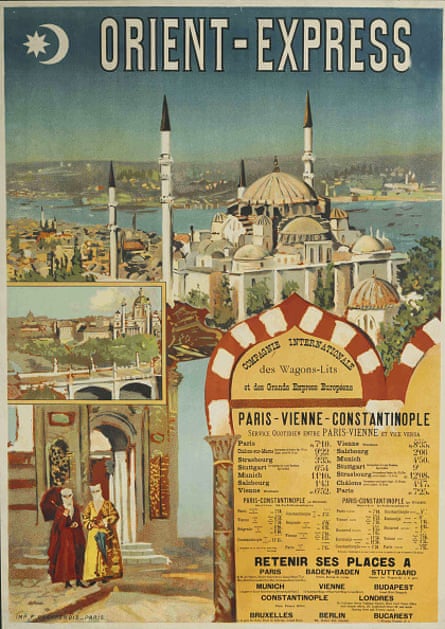 Travelling from Paris to Istanbul by train is an undertaking made famous by the historic Orient Express. In 2025 – nearly four decades since the original stopped serving Istanbul in 1977 – another iteration of the fabled pan-European service will launch, after the discovery of some 1920s carriages in a depot on the Poland-Belarus border, subsequently restored by the French hospitality group Accor.
The new service will run along the same lines as my itinerary (via Germany, Hungary and Romania). There the likeness ends. While passengers on board the resurrected carriages will probably enjoy a 14-course dinner involving wagyu beef and champagne, I'm served a bag of nuts and half a bottle of Hungarian sparkling wine, which I consume sitting on the edge of my bed, the wine getting fizzier with every bump and shake of our progress. There's this to be said about the nightlife on board the EuroNight service to Budapest: it's rambunctious and halting and two hours longer than scheduled. But I love it nonetheless. The simple magic of crossing an entire country in your sleep will comfortably offset any number of niggles (no disrespect, Austria).
Emerging from Budapest Keleti station, I wander down to the Danube and spot Shakespeare outside Starbucks. Not far from the bard, I find a bench in the sun and sit there for an hour contemplating Buda. I resist the pull of the city's infamous ruin bars (been there, done that, lost my T-shirt) and walk to Heroes' Square, where I take a self-conscious dip at the Széchenyi Baths, a palatial complex that offers a dozen ways of getting wet.
In town I eat a bowl of Hungarian ratatouille (lecsó) at Menza, and a Michelin-starred pork chop at Borkonyha. Then I make a trio of mistakes. First, I order a glass of Olaszrizling wine (rough as old boots). Second, I eat an entire chimney cake (which is exactly what it sounds like). And third, I whimsically walk into a screening of Barbie, which turns out to be dubbed rather than subtitled. To avoid making a fourth, I go back to my hotel, T62, which is trendier than I'll ever be – and sleep for 14 hours.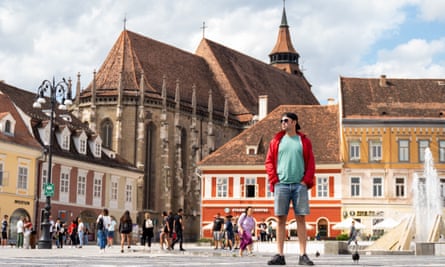 The following evening, I board the Ister night train to Romania. I soon realise I'll be sharing a compartment with four Swiss teenagers and a Moldovan dentist. The conversation flows freely, and not for the first time on my journey do I express thanks for the English of others. The Moldovan tells me about the price of veneers and the disputed territory of Transnistria. The Swiss teenagers tell me about Roger Federer's private life and their plans for the future. In the absence of wifi and a buffet car, we share pistachios and plums and viewpoints and lager. It's a fruitful, friendly environment. That said, earplugs are a blessing when the largest Swiss starts to snore like a trooper.
We pull into Brașov a few hours late. The station is burnished by morning sunlight. After dropping my bag at the Villa Prato, I head into the medieval old town for a delayed breakfast. At Bistro de l'Arte, I eat a bowl of soup (bean), a pancake (cheese), and a papanas (a sort of doughnut-cheesecake). I walk around Brașov's ancient lanes, weigh up its elderly headliners (the Black Church is a standout), and then withdraw to the town's lofty outskirts to do a lap of the centre, huddled in the sunlight below.
On top of dental tourism and Dracula, Brașov is known for its mountainside sign done in the Hollywood style. Because the views of Transylvania are said to be better up there than they are down here, I consider hiking up to it, but am dissuaded by a public notice suggesting I might cross paths with a bear. I return to the main square and get chatting to a local photographer called Radu, who is good enough to snap me in front of the town hall and then introduce me to the local moonshine, țuică.
The next afternoon, after a three-hour meander through the Carpathian mountains, I arrive in Bucharest. I deposit my gear at the Hotel Moxa, and hit the streets. Straight off the bat, the Romanian capital stops me in my stride. Epic porticos give shelter to homeless people. A giant ad for 5G sits atop a ruined tower. Queues for ice-cream suggest communist-era shortages. The main street – Calea Victoriei – is a swaggering catwalk that would make a Parisian runway blush. The Athenaeum is a wonder. The Arcul de Triumf is a curio. The old town is a hedonistic zone par excellence. And the Palace of the Parliament is a folly of epic proportions. It was commissioned by Nicolae Ceaușescu – the nation's former communist leader – at a time when his people were surviving on scant rations. Local people didn't take to their leader's latest vanity project. Things came to a head in 1989. The resolution was indelicate.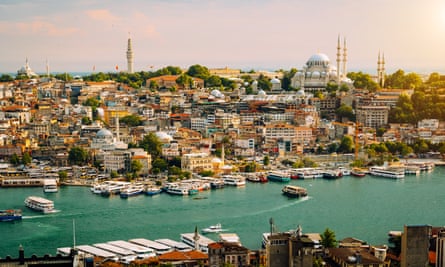 I board my final train, which connects with the Sofia-Istanbul Express, at 10.50am. For the next 20 hours, I share a compartment with a precocious German and a Dutch couple. I move into the side corridor and gaze at passing fields of sunflowers, before sticking my head in the compartment next door and chatting football with the cabin steward. It's a good carriage – friendly, boisterous, respectful, safe. Even the hour-long wait at Dimitrovgrad in Bulgaria for our carriage to join the Istanbul train, or the need to disembark at the Turkish border in the middle of the night, does little to dampen the good mood.
They say it's the journey that matters, and I agree. It's the deep vistas that appear on turning certain Bulgarian corners. It's the easy companionship that comes with shared intent and shared incapacity. It's the steady staccato on certain stretches of track. Granted, each of these things isn't much on its own but, taken together, they somehow elevate train travel to another level of going. It must be so, for when a final delay is announced on the approach to Istanbul, the news is met with the most philosophical of shrugs. Someone cheers. You'd be forgiven for thinking no one wanted to arrive.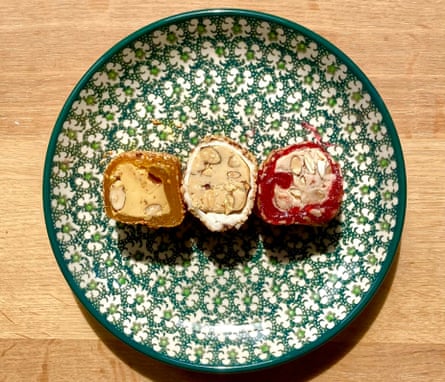 But arrive we do – and at Sırkecı station no less. This was the terminus for the Orient Express on its maiden crossing in 1883. And it was here – or close to here – that Agatha Christie conceived her Poirot. I part from the others, rest a while in the station lobby, then step out into a teeming metropolis of 20 million divided between Europe and Asia.
Faced with all that Istanbul has to offer, my wish in the first instance is modest: a good cup of tea.
The trip was provided by Byway, which specialises in flight-free, sustainable travel. A 10-day London to Istanbul package, including all transport and private accommodation (six nights in hotels, three in private cabins on night trains), plus 24/7 support along the way, costs £930pp, based on two people sharing. Ben Aitken is the author of several travel books, including A Chip Shop in Poznań and The Gran Tour, both available at guardian.bookshop
Denial of responsibility!
NewsConcerns is an automatic aggregator of the all world's media. In each content, the hyperlink to the primary source is specified. All trademarks belong to their rightful owners, all materials to their authors. If you are the owner of the content and do not want us to publish your materials, please contact us by email –
[email protected]
. The content will be deleted within 24 hours.