In the company of men – and Zen: a male-only wellness retreat in Wiltshire | Health and fitness holidays
I was an hour late by the time my car careened down a bumpy country lane into the ecovillage that would be my home for the weekend. The Easter getaway had turned my three-hour drive into five, rain lashing the windows throughout, and I arrived for my first wellness retreat about as far from zen as you could get.
One of the founders, the 29-year-old spiritual guru Josh Bolding, floats across the car park and greets me with a hug. I'd have preferred a beer, but I go with the man-hug. There is no time for small talk: I'm the last to arrive and he whisks me into the practice room, a wooden hut on stilts, where the other guests are settling into the first session on yin yoga and breathwork.
Taking my place in the middle of the room, Josh's soporific voice drifts over us: "This is your permission to leave the baggage at the door. The labels, the job titles, the narratives … " My eyes are closed, but I struggle to unwind. A fly buzzes noisily above. I wait for it to land on my forehead as the man next to me breathes heavily. Is he asleep? Am I asleep? Oops, I forgot to put my phone on silent!
It is my first time on a retreat and the timing is perfect – and not just because I spent the previous weekend on a stag do in Dublin.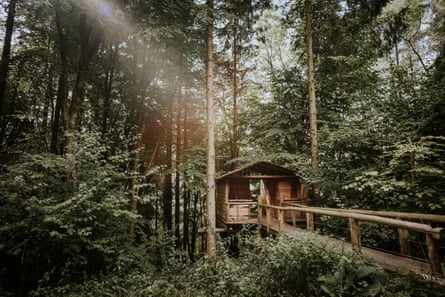 Life has felt quite hectic since my daughter, Iris, was born two years ago. She is the brightest bundle of joy and I am utterly besotted. And yet, like many new parents, we struggle with the balance of work and family time.
On top of this, last year I decided to confront a serious health condition that had loomed over me since I was 19. It was, to put it mildly, a topsy-turvy year.
I'm not the only one desperate for a detox. The value of the global wellness tourism industry grew from $563bn (£452bn) to $639bn (£513bn) from 2015 to 2017, twice as fast as the value of tourism overall, according to the Global Wellness Institute. The consultancy Allied Market Research predicts that health retreats will almost double in value, to $1.592tn (£1.279tn) by 2030.
Yet few of these breaks are targeted at men. However, interest is rising: searches for male-only detoxes are up 200% compared with last year, according to bookretreats.com. In my experience as a 34-year-old, men of a similar age seem increasingly interested in prioritising their mental health but struggle to find a safe space.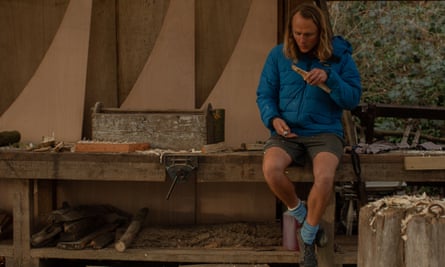 "You could have mates that you've known for 25 years and we've not really opened up without, let's be honest, a bit of alcohol being involved," says Ben Prince, a 38-year-old musician who booked the retreat after struggling with the pressures of daily life.
The aim of Both Sides Retreats is to "create a safe container for men" that will allow them "to connect to all elements of masculinity and emerge as better husbands, brothers and fathers". It will, we're told, help us to "escape the stressors of modern-day" life while equipping us with the tools we need to navigate it.
On further research, I find that previous guests appear unanimously toned. Rippling giants of men, with perfectly crafted top knots and beards. My trepidation rises when I learn we will be doing jiu-jitsu and wild swimming (I've barely had so much as a cold shower), the food is vegan only, and there is limited telephone signal, so we're advised to pack away our devices and use a communal phone in emergencies. It sounds like a mix of SAS: Who Dares Wins, the Guardian canteen and prison.
Founded in 2020, Both Sides Retreats hosts three-night getaways across the UK. This one is based in Campwell woods, an off-grid ecovillage nestled in an ancient forest in rural Wiltshire. Our tiny hamlet sits on the lip of a valley carpeted in lush green wild garlic, where muntjac and pheasants roam below and a great spotted woodpecker drums invisibly in the trees. The site is part of a fifth-generation working sheep farm only six miles from Bath, yet feels pleasingly isolated.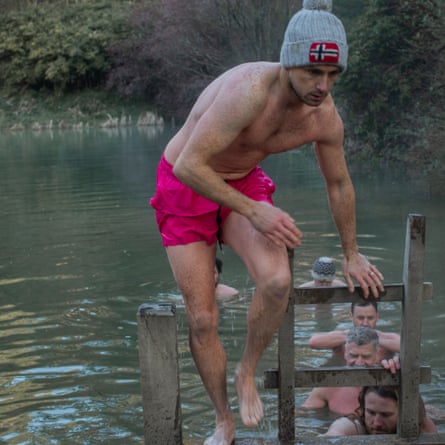 On the first night we gather around the campfire. Twelve men take it in turns to explain what brought them here. Voices waver over the crackling wood as we listen in the dark.
The circle, as it is known, is opened by Anthony Mullally, the recently retired Ireland international rugby league player and co-founder of the retreat. Nicknamed the "vegan warrior", Anthony had earned a reputation for doing things differently in the hyper-macho world of rugby league. He urged his teammates, with limited success at first, to give up meat and was branded "rugby league's hippy". Now 33, Anthony, who hovers over others at 6ft 5in, wants to break down stereotypes of masculinity and "re-establish the integrity of men" through mindfulness.
It is my turn to speak. I explain, for the first time to a group of strangers, that I have struggled since my dad was diagnosed with Huntington's disease. My dad, now 67, is in the later stages of the disease and relies on my mum as his full-time carer. I grieve his loss even though he is still alive.
Huntington's is a hereditary condition so I have known there was a 50% chance that I might eventually be diagnosed with it too and struggled to see my life beyond 30. Only when my daughter was born did I feel strong enough to get tested. After months of genetic counselling, I got the all clear last April.
It is an incredibly humbling experience, listening to men recount their vulnerabilities so openly, without a beer in sight. The silences, uncomfortable at first, become pregnant with meaning. By the end we sit in an almost-reverential quiet.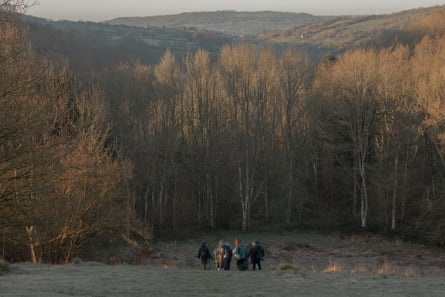 The ice is well and truly broken when we plunge into the freezing lagoon the next morning. We emerge shivering, but it is utterly exhilarating. Over the next two days we carve wooden spoons, practise jiu-jitsu, and enjoy tasty feasts of vegan food.
On the final afternoon, we gather again in the cosy wooden hut for what the itinerary describes vaguely as "deep breathwork". We lay on mats, our eyes closed and blankets pulled up to our chests.
At first you feel the fingertips tingle, then the feet go cold. This is the sensation of too much carbon dioxide being removed from the blood, altering the circulation.
By the fifth round of breathing, it feels like an out-of-body experience. I'm somewhere between sleep and awake. A vibrating pulse that feels like an electric current travels up my chest. I hear someone sobbing in the room.
The tears came slowly at first. Then, as I hold my breath for the final time, an unstoppable swell bursts out of me and I am overcome with emotion. I feel a gentle hand on my arm, and then Josh's voice: "It's OK, brother."
The process is called conscious connected breathing and is supposed to help you explore an alternative state of consciousness by infusing your body with oxygen. It was one of the most profound experiences of my life. The following morning I wake feeling lighter, happier and breathing deeper than I have for a long time. One of the other guests describes a "deepest sense of contentment"; another felt as if he was "flying like an eagle".
As I leave the retreat it dawns on me that this was all about becoming comfortable with the uncomfortable: from the breathwork to the cold water swimming, the stripping away of modern luxuries to opening up with strangers. We say our goodbyes as if we've known each other for years.
A few days later I email Josh to thank him for the experience. His 24/7 out-of-office reply lands immediately in my inbox: "If you're reading this message," it says, "I challenge you to put down your device for five minutes to a) hug someone you love; b) put your feet in the grass; or c) find a creative way to combine the two. I will never know if you did it or not. But you will, and that matters more."
Looking back on an unforgettable few days, one key resolution emerges: be more Josh.
The trip was provided by Both Sides (bothsidesretreats.com). The next three-night retreats are in Cornwall from 21 July and 10 November (from £595), and North Yorkshire from 20 October (from £495)
Denial of responsibility!
NewsConcerns is an automatic aggregator of the all world's media. In each content, the hyperlink to the primary source is specified. All trademarks belong to their rightful owners, all materials to their authors. If you are the owner of the content and do not want us to publish your materials, please contact us by email –
[email protected]
. The content will be deleted within 24 hours.