Menswear trends such as track tops and weird trainers may are often attributed to a combination of social media, celebrity and kismet. But there's another factor that links them: the designer Martine Rose.
The London-born 42-year-old might not be a household name like Ralph Lauren or Giorgio Armani, but she has a greater influence on what fashionable young men wear in 2023. Having designed menswear since 2007, she is an originator of some of the more outlandish trends ranging from gorpcore (hiking gear for people who don't hike) to Justin Bieber's wide-legged jeans. Her climbing collection and cult football shirt based on Liverpool's 1992 strip are already five years old. Last year, a heeled version of Nike's Shox sneakers – perhaps the weirdest of weird shoes – became the go-to trainer among the fashion crowd and sneakerheads alike.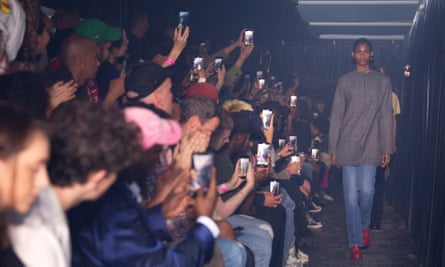 Slowly but surely, her name is entering the wider world. She designed her version of Nike's England replica shirt in 2021, in the run-up to the women's Euros, and another project with the sportswear giant is coming this summer. Thanks, also, in part to having Drake model for a pandemic collection, Kendrick Lamar wearing her on tour last year and a new role as guest creative director for Clarks shoes for spring/summer 2024, her show will be the hottest ticket at this month's London fashion week menswear shows.
Rose's clothes have always been worn by both men and women. Hailey Bieber and Rihanna are fans, as is the artist Martine Syms, but Rose still calls herself a menswear designer. "I definitely don't say genderless," she says. "It's so sexless." She likes men wearing women's clothes and vice versa, but says the parameters of men's clothes appeal when she is designing. "This is not to make myself sound really cool, but I like to break the rules," she says. "And there's loads of rules of menswear."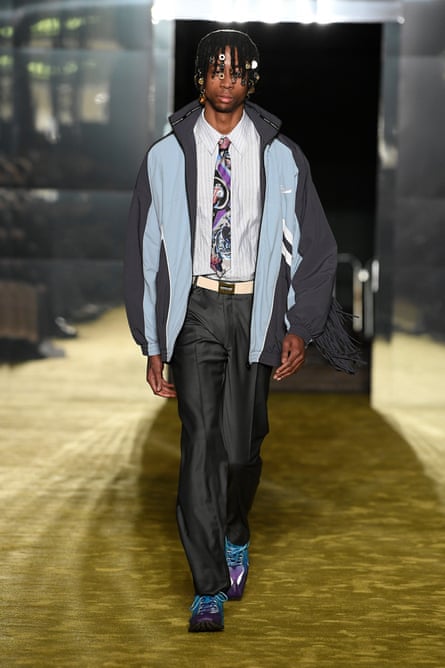 In terms of British menswear, Rose knows her stuff. She was guest designer at Florence's Pitti Uomo in January, a big deal in the industry. And though Pharrell Williams was named creative director of menswear at Louis Vuitton in February, succeeding the late Virgil Abloh, Rose had been tipped to take the role.
Although she doesn't speak about Williams's new role at Louis Vuitton specifically, she – along with many in the industry – worries about the shift towards celebrities, rather than trained designers, being named as creative director at big brands (Dua Lipa's recent collection with Versace and Gucci's collection with Harry Styles were one-offs, but may be part of a wider trend). "I wonder what the shape of it all, what the indicators [are]," she says. "It's been a few years with the vaguely celebrity thing and I wonder what that indicates for the future."
I meet Rose in her London studio. Unlike members of her famous fanbase, she prefers to remain out of the spotlight. Her London studio is not in the typical creative hubs of Dalston or Peckham. Instead, it's in Crouch Hill, an area populated by thirtysomethings in Lucy & Yak dungarees. Inside, Rose is working on a fitting for her June show, wearing a T-shirt from her spring/summer 2023 collection bearing the phrase "eager beaver" and combat trousers.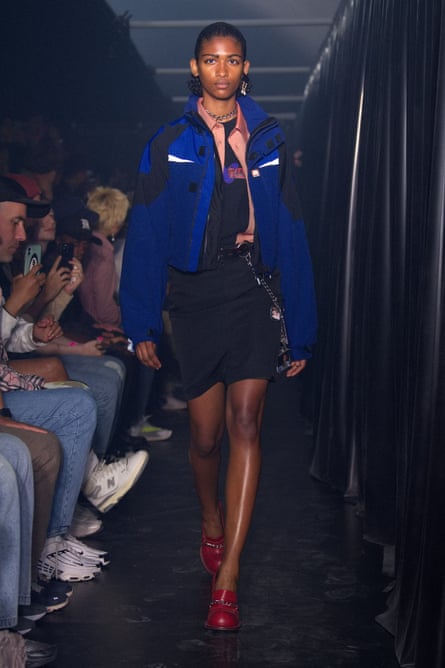 Cultural markers range from a George Michael poster in the loo to moodboards featuring bikers. Rose says she doesn't really "do themes". The images of the bikers relate to the fit of a jacket in the new collection. "It's based on these guys sitting on motorbikes and what that does to the shoulders," she explains.
Rose's attraction to what she has previously described as "wonkiness" recalls the designer Miuccia Prada. Both thrive on challenging the idea of good taste, taking things that are anything but, and turning them into the height of fashion.
"I like people to be able to recognise something they have," Rose explains. "It has to be familiar and yet off." She praises an outfit she made for Lamar to wear at the Grammys in February as "like an IT consultant".
Working with Lamar was a highlight: "I underestimated [how I would feel] when he came out [wearing her outfit at his show in November]," she says. After the gig, the situation developed. "Eight tequilas down, we were in this funny little line to say hello … He's been very polite and shaking hands with lots of people. And then he turned to me. And it was like [cartoon voice]: 'cuddle!'"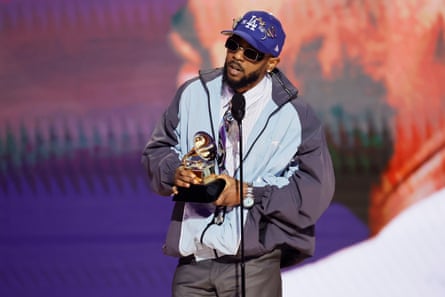 Growing up in Croydon, with family in Clapham, Rose spent a lot of time at her grandparents' house in Tooting. They emigrated from Jamaica in the 1950s. "[It] was the central house, which was really common for the West Indian community," she says. "[My grandmother] had a big house because it was difficult to rent, being Black and being first generation … Everyone sort of lived there at some point or other … It was a refuge, a safe place and also a fun place. I think that really influenced me."
Rose shows me some snaps from her family chat of what looks like a party, with smiling cousins wearing chunky jumpers, Kickers and breeches-like shorts. These were her first style icons. "One was into rave, one was into reggae, one was into lovers' rock, and the clothes that went with it," she says. "It was all around me; I was never looking at Vogue. Why would you? I was busy looking at other people going out."
Although not explicitly political, Rose's work pivots around the underdog, the nonconformists and the marginalised. Rather than choosing the usual genetically blessed professionals for her shows, 90% of the models are cast on the street – as with the Florence show. "I wanted it to feel like we were paying respect to Italian culture and Italian immigration," she explains. "And some of the stories … You have tough lives in Italy if you're not white and wealthy there. It's really tough."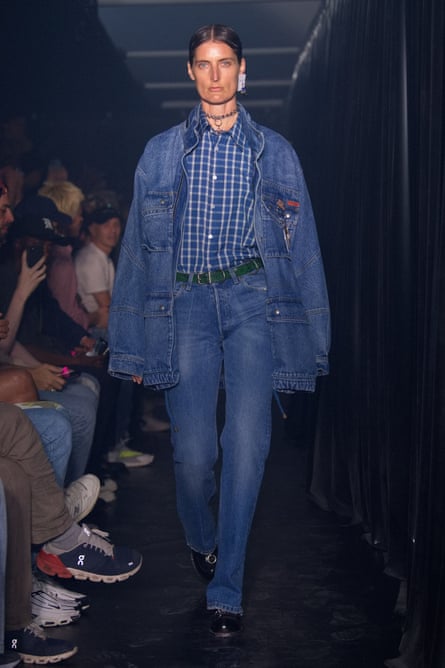 For a brief period in the 2010s, the London menswear schedule featured a host of pioneering menswear designers including Nasir Mazhar, Grace Wales Bonner and Cottweiler alongside Rose, making it one of the most talked about fashion weeks. Recently, this scene has faded – with Rose the only out and out star showing in June. She feels "very disheartened and sad about the landscape of London fashion, really demoralised". By contrast, she says, "In Paris, [fashion is] really protected, government funded, and recognised as a massive source of commerce. We have so many English graduates in really high positions [there]; we produce them, but we don't recognise it here and we don't invest and we don't have the infrastructure." This has got worse post-Brexit. "We can't hire Europeans. You don't have the investment and the support here. Almost everything is working against you to stay."
Rose studied fashion at Middlesex University and launched her brand in an era when, she says, "no one was doing menswear. Everyone's like: 'What are you doing?'" She also worked in a bar until she was 34, but she says she had "just enough" motivation to keep going in fashion. Kim Jones, the creative director at Dior Homme and Fendi, provided support and encouragement. "He did so much," she says. "He's not a pull the ladder up type person. He looks behind to see who is coming up, and that's really unusual."
Another influential designer, Balenciaga's Demna, helped turn her fledgling label into a proper business. Rose consulted for the menswear side of Balenciaga between 2015 and 2018. Speaking to Vogue in 2021, she said the money she was paid for this work was channelled back into her business. "It gave me the chance to actually do something, to put it all back into my own label and make a proper jump forward," she told the magazine.
Rose is a British designer, and takes lots of inspiration from British culture – ranging from football to clubs and pubs (a collection in 2021 was based on beer towels). But she is far away from the exported idea of Britishness: union jacks and cups of tea, the one prominent in the run-up to the coronation. "That's always existed, hasn't it?" she says. "I guess the interesting thing about the Britain that I'm referencing is that it is working against that. That's the oppressor and this is the oppressed."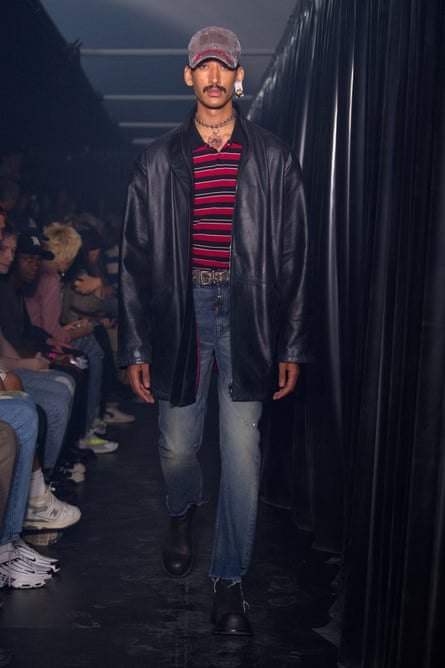 Rose has previously said that she always comes second, rarely winning the prize, but perhaps that is the best place to be. Does she still believe that? "Yeah," she says. "I would prefer to be the underdog. I did win the GQ award [the GQ Germany award for designer of the year in 2022] … [and] I was delighted to win, but on the whole I don't need to." Arguably, with industry star power, Drake and Lamar as superfans and collaborations with tournament winning football teams, you could say she already has won.
Denial of responsibility!
NewsConcerns is an automatic aggregator of the all world's media. In each content, the hyperlink to the primary source is specified. All trademarks belong to their rightful owners, all materials to their authors. If you are the owner of the content and do not want us to publish your materials, please contact us by email –
[email protected]
. The content will be deleted within 24 hours.