One TikTok creator believes she can predict Taylor Swift's future husband based on a theory she's dubbed "The Dusty Ex-Boyfriend Effect."
Erica Manganelli, who goes by @leta_bitchknow on TikTok, coined the term on Sunday night after Swift attended the Kansas City Chiefs game to cheer on tight end Travis Kelce, the man she is rumored to be dating.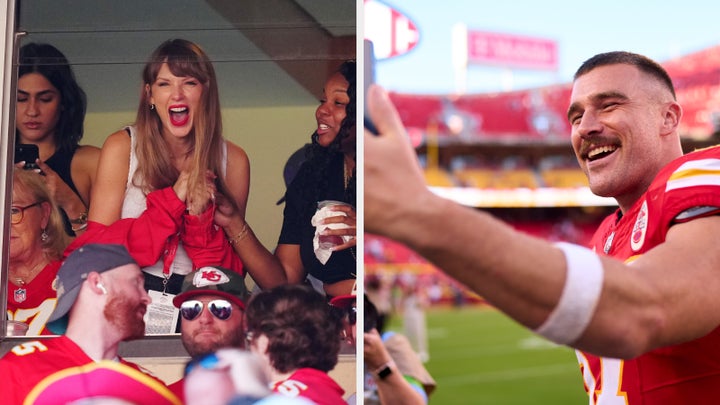 In a TikTok that's been viewed more than 2 million times, Manganelli says she believes Swift and Kelce will end up getting married because of the so-called Dusty Ex-Boyfriend Effect.
"It's when you're in a really long-term, unfulfilling relationship and then you guys break up and you get this new freedom and then you date a total loser. And then directly after the breakup with a total loser, you meet your husband," she explained in the video.
So, in Swift's case, Joe Alwyn — the British actor she dated for six years before breaking up earlier this year — was the long-term but unfulfilling relationship. Shortly thereafter, she reportedly began a month-long romance with Matty Healy, the problematic frontman of the band The 1975, which ended in June, much to her fans' relief. That was her fling with a "dusty" person. (Manganelli uses the term "dusty" to mean anyone "who isn't marriage material in your eyes," she told HuffPost).
Manganelli's had this theory for years, she said, but didn't name it until now.
"I noticed it was a pattern amongst my friends and also a lot of celebrities," she said.
On her TikToks, people commented with their own evidence that this phenomenon is, indeed, a thing.
"I trust the dusty ex bf effect. Same happened with me 😅" one person said. Another wrote: "That's exactly how I meet my husband. 3 year toxic relationship, a summer of questionable choices, and then meet him at the last party of the summer." Someone else said: "OH MY GOD. Left my high school sweetheart, had a questionable one night stand, and then started dating my now husband of 10 years 👀👀."
Gayane Aramyan is a marriage and family therapist in Los Angeles. She called the Dusty Ex-Boyfriend Effect an "interesting observation of how someone ends up in the 'right' relationship and ends up marrying," noting that "many people go through unfulfilling relationships before they end up with 'the one.'"
Aramyan offered a potential explanation about why this particular relationship sequence seems to be a common one.
"After someone gets out of an unfulfilling relationship, especially a long-term one, they may want to explore other 'types' to figure out what makes them happy," Aramyan said. "Because for so long they were unhappy or unfulfilled, they may explore other options to find their type. So it makes sense that after trying that out, they may date someone new who fits their needs and makes them feel fulfilled."
That said, Aramyan noted that this is not a universal phenomenon.
"I don't think this is something that applies to everyone. Each person's relationship is different," she said. "Most importantly, people need to focus on what makes them fulfilled in the first place before searching for that from someone else. Oftentimes, we have to know how to fulfill ourselves before seeking it from others."
The resounding response to Manganelli's theory on TikTok has left her "very shocked," she said.
"I actually thought people would disagree. A lot of the comments were saying they met their husband following this accidental pattern. It's been so fun to see how relatable it was for people."
Overall, she's grateful her videos on the topic have reached so many people. "I have been able to experience a connection with so many women who have similar relationship experiences," she said.
Denial of responsibility!
NewsConcerns is an automatic aggregator of the all world's media. In each content, the hyperlink to the primary source is specified. All trademarks belong to their rightful owners, all materials to their authors. If you are the owner of the content and do not want us to publish your materials, please contact us by email –
[email protected]
. The content will be deleted within 24 hours.