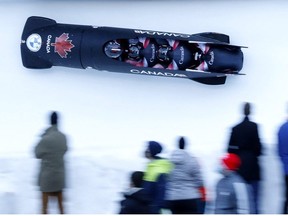 Article content
What Tara McNeil witnessed was embarrassing, confusing and of grave concern to her, but the Calgary physiologist who still wants to be the next president of Bobsleigh Canada Skeleton knows there was more to last week's sideshow than met the eye.
Article content
So she isn't passing judgment, and she isn't running away from an organization that appeared dangerously dysfunctional. She said her priority is for bobsled and skeleton athletes facing a new competition season to do so without the stresses that were evident at an aborted annual general meeting last Thursday in Calgary.
Article content
That contentious event was adjourned after the financials were presented. It was the sole agenda item not subject to a vote of the membership, and was legally required by section 172 (1) of the Canada Not-for-Profit Corporations Act.
No other business was conducted because the BCS board said it received "credible information that there may have been irregularities" with respect to the verification of new memberships at the provincial sport organization level. The board further stated it was "unable to determine the BCS members that are eligible to vote on the business of the AGM or to be elected as directors at this meeting."
Article content
That created confusion and chaos as some members in attendance didn't understand why the financials could be presented but the elections for president and director-at-large could not proceed. A group of BCS athletes past and present who have demanded the resignation of current president Sarah Storey, have also put forward McNeil as their preferred candidate for president, and Matt Stapley as their choice for director-at-large. Both McNeil and Stapley were in attendance last Thursday, but neither has been formally nominated as those nominations would have had to occur on the floor of the meeting.
"I do understand, having worked in sport governance and from an understanding I received after the fact, that yeah there are some legislative processes that do need to take place and could cause problems for athletes or people who are voted in down the road, so I definitely respect that is a thing," said McNeil. "I've had to deal with those types of things in the past. I do believe and trust that is the case. It's just that the way it was handled was, as you witnessed or have been hearing about, I guess it exemplifies how the athletes have been feeling all along and that was extremely palpable. It was a terrible experience for sure. I left that meeting thinking I don't know how everybody got here, but this is madness."
Article content
BCS is now legally required to hold an AGM by Nov. 7.
"During the first portion of the AGM meeting on September 29th, I confirmed that we would send notice of the meeting and that the board would consider the appropriate format (in person, virtual or hybrid)," Storey said in an email to Postmedia.
She also said she was not aware of how many memberships were in question or how the verification process was proceeding because it is being conducted by other people in the organization.
"Regardless of the quantum, those not entitled to vote should not be able to, but very importantly, all members entitled to vote must be afforded that right (whether it's one or dozens)," Storey said by email.
She was criticized on site and on social media for leaving the meeting without answering questions from members.
Article content
"It was determined, based on advice, that the meeting must be adjourned and that the chair must leave the meeting in order to fulfill our fiduciary duty," Storey said in the email. "In the end, all directors must act in the best interests of the organization in keeping with our fiduciary duties. We took advice prior to and during the AGM about those responsibilities and acted accordingly to protect the rights of members and ensure the fairness and integrity of the decisions to be made at the AGM."
Both Storey and high-performance director Chris Le Bihan have been under pressure to resign from a group of current and former BCS athletes who blame them for perceived failures on the issues of transparency, governance and athlete safety.
Article content
Storey has not stated publicly whether she will stand for re-election. McNeil said she wants to help the organization and its athletes move forward safely and responsibly, so she will let her name stand for election whenever the AGM is held in its entirety. Sport Canada is also doing what it can to move BCS forward.
"Sport Canada is aware of the situation," a spokesperson said in an email to Postmedia. "Officials from Sport Canada are in communication with Bobsleigh Canada Skeleton to better understand the issues that resulted in the adjournment and to understand the next steps. In addition, the Minister initiated an audit of Bobsleigh Canada Skeleton spanning April 1, 2020, to March 31, 2022, to ensure compliance with the terms and obligations of the Contribution Agreement.
Article content
"It is important to note that, while Sport Canada imposes strict funding requirements, sport organizations are independent, not-for-profit entities that are responsible for managing their organizational governance, administering their sport in Canada, and ensuring that their members participate in safe, healthy, welcoming and inclusive environments."
To that end and in collaboration with Sport Canada and the Canadian Olympic Committee, BCS assembled a high performance management group in August to help the skeleton sliders get their program back on track. The group consists of Own The Podium's BCS high-performance advisor Brian Rahill, COC appointee Cara Thibault, BCS athlete rep John Worden and BCS appointee Cody Sorensen. When BCS hires a coach and technical lead for skeleton, that person will join the group, which has been "specifically designed as a temporary measure," according to a BCS spokesperson.
dbarnes@postmedia.com
Check out our sports section for the latest news and analysis. Care for a wager? Head to our sports betting section for news and odds.
Denial of responsibility!
NewsConcerns is an automatic aggregator of the all world's media. In each content, the hyperlink to the primary source is specified. All trademarks belong to their rightful owners, all materials to their authors. If you are the owner of the content and do not want us to publish your materials, please contact us by email –
admin@newsconcerns.com
. The content will be deleted within 24 hours.