A portrayal of the brutality entrenched in some Belfast communities in a major new BBC drama has shocked younger actors not old enough to have lived through the Troubles. The violent legacy of sectarian division in the criminal underworld had to be explained by older cast and writers.
Police show Blue Lights is due to come to television screens just before the Good Friday agreement marks its 25th anniversary early next month, and it focuses on the continued threat posed by gangs involved in the drugs trade. Set in the ranks of the Police Service of Northern Ireland today, it follows three recruits learning how to navigate a treacherous urban landscape.
The series, written by Declan Lawn and Adam Patterson – a duo who won plaudits for their work on the drama The Salisbury Poisonings – hinges on the way older officers introduce their idealistic colleagues to the threats around them. And the plot found an echo among the cast during filming, the writers have revealed.
"The generational difference was mirrored on the set," said Lawn. "Our more established stars, John Lynch and Richard Dormer, grew up there and knew about the history of the Troubles, probably even more than we do. They could explain the context to the others."
Lawn, 46, also grew up in the city, but his childhood was different from that experienced by his younger cast. "When I was a boy I would genuinely be worried about whether my parents would come home from work each day. Children were conscious of the constant risk," he said.
"Adam and I are from perhaps the last transitional generation, and that is a good thing. As our actors heard what we had to film, it was interesting to see how different age groups reacted to it. The level of violence was a shock to some."
Blue Lights takes place among criminal gangs built along old religious divides. "These gangs purport to have political allegiances but use that as a massive smokescreen," said Lawn.
"They want to populate the city with criminality, although a few have idealistic claims."
As a result, Patterson points out, MI5 is believed to have its largest base outside London in Belfast. The series plays on the sensitive overlap between the work of the two services.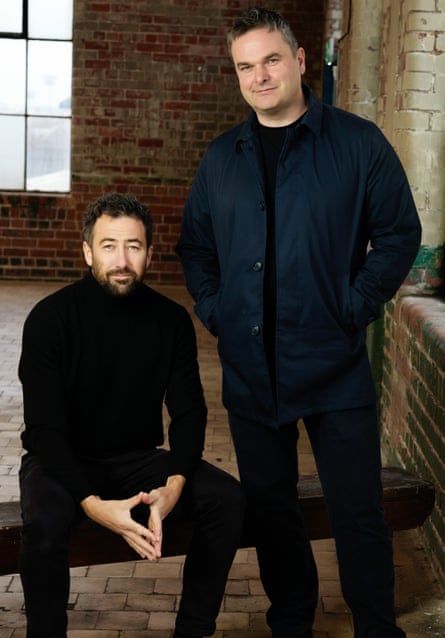 The writers met while working together on investigative current affairs documentaries, including Panorama, and they found a shared ambition to tell longer stories about the characters they had come across in Northern Ireland and in international conflict zones.
"The drama is born from everything we've seen people do when they respond to terrible situations," Patterson said. "The peace deal was wonderful, but work is still going on to find a way the nation can live with itself. It's a post-traumatic society. That's the only way you can characterise it. I grew up in a small town outside Belfast, and my father was a prison officer, so we had a gun in the home and bullet-proof windows. That was normal life for me, and it has all spilled out into this series, including the humour that got people through it all."
Perhaps the most shocking element in the new drama concerns what used to be called punishment attacks but are now known officially as paramilitary assaults in order not to put blame on the victims.
"Sadly, hundreds of these are still carried out, many involving shooting knees and elbows, or stabbings, and they have extremely low prosecution levels," said Lawn. "There's a kind of omerta, or enforced silence, among the gangs that exercise power. It is a shadow cast by the conflict, and unfortunately you hear about them on a weekly basis. But I never became inured to it."
Rough, the 2020 award-winning short film the pair wrote, also tackled these crimes. "We were keen to revisit this problem," said Patterson. "I love Belfast – I live here again now – but it's a flawed diamond. It has been an ugly cousin, ignored and forgotten, but we want people to see this mythical place."
For Lawn, too, now is the right time to give viewers an insight into Belfast life: "Our main job is to be entertaining, of course, but this is a moment when things are in the balance again. Both of us are fundamentally optimistic though. We believe things are going in the right direction."
Denial of responsibility!
NewsConcerns is an automatic aggregator of the all world's media. In each content, the hyperlink to the primary source is specified. All trademarks belong to their rightful owners, all materials to their authors. If you are the owner of the content and do not want us to publish your materials, please contact us by email –
admin@newsconcerns.com
. The content will be deleted within 24 hours.