Australian Open quarter-finals: Ash Barty wins, Monfils v Berrettini – live! | Sport
09:47
On that point, it's worth noting that for the first time, both women's semis are at night. That might help the slice skid on, though could make Keys' serve more of a problem. I can't wait to find out.
09:45
The reason I think Keys is a good matchup is that she has the power to trouble Barty. She doesn't move as well, but if her serve is there for her, it could come down a few points her and there. One thing in Barty's favour, though, is how well her slice is working, because she can deploy it to set up winners or buy her time, from pretty much anywhere on the court.
09:42
Now here's Barty talking to Eurosport, saying it was a helluva atmosphere and she really enjoyed the match. She thinks that was the best she's played this year, which I didn't expect to hear at all – I thought she was much better against Anisimova. Obviously, what do I know – nothing – and she explains that Pegula forced her to play well and she was happy to miss in the right way as long as she was assertive and aggressive. Again, I thought Pegula hit close to her bottom level but anyway, Barty talks about how lucky she is to play in her home Slam, and though she'd have loved to be born 20 years earlier when then Aussie Open was on grass, she loves the hard surface too, though notes that at night and with the roof closed, it can sometimes play dead.
09:38
Barty says she was solid tonight and had fun, finding serves and forehands but not worrying if she missed a couple. She thinks she did that all match, which I'm not so sure about, then says "Jess" is "an incredible person and a brilliant girl". Their lockers are near each other, so they know each other well, and she says Pegula is a top-20 player for sure.
On herself, Barty explains that she's grown as a player and as a person, better able to problem-solve on court, thanking her team for their input. The night sessions have been amazing, though the weather isn't Melbourne it's Brisbane which is to say it's hot, and on Keys she gushes about how nice it is to see back "one of the most incredible girls in the locker room". Praising "Maddie" – another mate, obviously, who wouldn't want to be her mate – for her charity work as well as her game, she explains how excited she is for the matchup – you and me both – then makes her merry way off. I could listen to her talk all day.
09:34
Barty meets Madison Keys next, and that should be an absolute jazzer – if Keys can let herself go – not a done deal – in a way Pegula couldn't. Anyway, here's Barty.
09:32
Ash Barty [1] beats Jessica Pegula [21] 6-2 6-0!
*Barty 6-2 5-0 Pegula I feel bad for Pegula because she's been fighting all her life to get to this moment, and it could barely have worked out worse. Had Barty turned up with her A-game, what can you do. But in the first set, she played pretty much as badly as she's capable of doing and still took it with a double break because Pegula couldn't find any aspect of herself. In short order, Barty has three match points, and though Pegula saves one, a big serve and a desperate return that drops long finishes things.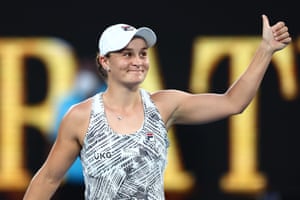 Updated

09:29
Barty 6-2 5-0 Pegula* at 40-0, Pegula serves a double … then another. It never rains, but sometimes it pours so hard it makes your head bleed. Eesh. Pegula then nets a forehand, and her game has totally deserted her here – it's lonely out there – then a forehand goes wide to give Barty advantage. In comms, they note that Barty is like Murray in her ability to make opponents play their worst, then Pegula nets another forehand and that's eight games and four breaks in a row for the world no1. This isn't nice to watch.
09:25
*Barty 6-2 4-0 Pegula I should apologise, though, if I gave the impression those aforementioned slices were unserious – verily they are not, they're one of the best shots in the game. Anyway, Barty's won six games on the spin and when, at 15-0, Pegula plays a good point only for her attempted winner to miss the line by fractions, seven looks imminent. Barty, though, swipes a simple net putaway long and follows it with a double – a glimmer for Pegula – but another forehand drops just a little bit wide for 40-30, then an inside-out forehand clips the net but refuses to deviate, yet another winner.
09:20
Barty 6-2 3-0 Pegula* Pegula is totally frazzled out there, which is understandable – she's getting handled – but if she'd hit anywhere near her top level in set one, she'd be in the contest. I hate to say it, but I wonder if the occasion got to her, because she was broken from 0-40 in the first game, and in this one she finds herself 30-40 down having not forced Barty to do all that much. And shonuff, a succession of slices allow Barty to control the rally before, eventually, inevitably, Pegula nets a backhand, and the only consolation for her is that this'll soon be over.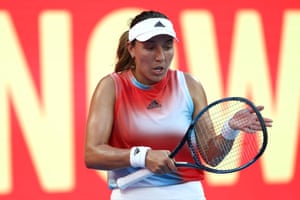 Updated

09:17
*Barty 6-2 2-0 Pegula Barty is hitting much more freely now, getting first serves in and forehands into corners – just what you need a set and a break down. Still, at 30-0, Pegula times a return beautifully, a forehand down the line … so Barty sends her next serve out wide, cleaning up with a forehand into the corner, then seals the game with an ace. She is very, very good at tennis (and numerous other things, including being a human being).
Updated

09:14
Barty 6-2 1-0 Pegula* We return from the commercials with set two already underway, and this is a huge game for Pegula. If she holds, we might get ourselves a ball-game, but if she's broken it's over. At 30-15, though, she prods a tame backhand into the net, and she just can't relax into thing at all; she's waiting to lose. So at 30-all, Barty leaps into her, and though she reads the direction of an overhead, her attempted pass down the line strays marginally wide. I hate to it, but this break point might as well be match point … and Pegula saves it with a first-serve and forehand, only to cede another when Barty hits the baseline with a slice and she can only net. Here comes break point number two … and Pegula saves it with a backhand down the line! She only hit two winners in set one, a totally unsustainable state of affairs, especially when you combine it with the number of unforced errors, another one of which hands over another break point, saved with her first ace of the match. Barty then catches the top of the net with another backhand slice and again, Pegula nets her volley – she's got a real hands issue – and when she picks out Barty with an overhead, she's forced to chase a beautifully measured lob then hoist consecutive moon-balls, the second of which Barty hammers into the corner. This feels extremely did.
Updated

09:04
*Barty 6-2 Pegula Poor old Jessica. Suddenly, Barty finds some first serves and Pegula, knowing she's cooked, can do nothing about it. At 40-0, Barty seals the set with an ace, and I don't think this is going to get more competitive I'm afraid.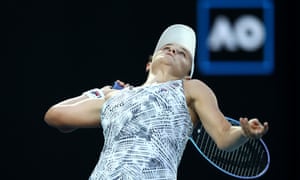 Updated

09:01
Barty 5-2 Pegula* If Pegula can just up her level she can make a match of this, and she should be taking confidence from Barty's struggles. But she's struggling too, hitting a forehand long having been handed 30-0, then comes in again and can't dig a passing shot out of her tootsies. Gosh, why is she doing this? Pegula comes in again, nets a volley, and Barty has a point for a double break … which she seizes, a backhand slice eliciting a backhand into the net. Barty is too good to play much worse than this, and yet she's cruising to the first set!
08:58
*Barty 4-2 Pegula Barty just can't get going, struggling to make any first serves, and a poor forehand gives Pegula 15-30. It's odd, because she's getting chances without playing well – I doubt that's something she anticipated – but a tremendous second-serve draws Barty level and she quickly closes out.
08:53
Barty 3-2 Pegula* At 15-0, Pegula slaps down a double, and at 30-15 she goes long on the forehand. She's a bit eager, I think, blazing at every half-chance lest Barty finish the point if she's patient. We end up at deuce and Barty dictates the next rally, but goes marginally wide with a forehand that just drops over the sideline, then a return flies long and Pegula is still in this set.
Updated

08:50
*Barty 3-1 Pegula Barty opens the game with an ace, and we learn that it's the first of the match – I guess Pegula got fibres on the two I called in her previous service-game, but I'm not at all sure. But oh look, there's another one, down the middle for 30-15, while our commentary team praise Pegula for having a "minted" dad – he owns the Buffalo Bills – and not being a layabout. Seriously. At 30-all, she whacks a forehand wide, then at 40-30 Barty goes big on a second serve and misses; can Pegula capitalise? Er, no. An impeccable point from Barty follows: big serve, big forehand, then another big forehand, cross-court on the volley from near the back, for a clean winner. But then she misses another so we return to deuce, and Barty clips the top of the net with another forehand, the ball dropping out for her 12th unforced error of the match! Break point! Pegula gets a second serve to go at too, but stepping in, she's so eager to attack she rather swipes at her forehand, taking it early and netting. Barty, though, isn't as sharp as she was on Sunday, struggling to find first serves and struggling to get her forehand going, so she needs a couple of advantages to secure the game, but secure the game she does. Still, some hope for Pegula there – or some despondency that she missed her chance, depending on how you look at things.
08:41
Barty 2-1 Pegula* Pegula plays a decent first point for 15-0 but then nets a forehand – Barty is getting big on her here, forcing her to rush her shots. If she doesn't relax soon, she'll be back in the locker room, but at 30-15 she gets lucky when she comes in again and Barty surprisingly misses the pass, eventually holding to 30. She's really struggling with Barty's variety of spins and angles.
08:38
*Barty 2-0 Pegula Barty begins with an ace and follows it with a service winner, then a good forehand return onto the baseline gives Pegula a sniff. A very minor sniff, a quick point followed by a booming ace down the T consolidate the break, and this is going exactly as expected.
08:35
Barty 1-0 Pegula* Excellent start from Pegula, who reads Barty's forehand to hit a cross-court winner for 30-0. Then at 40-0 she opts to come in – not sure about that one, Jess old mate – and nets then, when Barty comes in she hooks a pass wide. From nowhere, she's put herself under pressure and shonuff when she's invited in again, she nets a simple forehand putaway. Barty is into this now and soon has advantage – Pegula's started missing first serves – then Barty surprisingly dumps a backhand. Already, this seems like a pivotal game, and a big forehand into the backhand corner allows Barty to clean up at the net, then Pegula nets a backhand and that's the break. She'll be wondering, already – and rightly so.
08:29
Pegula won the toss and wasn't sure what to do, but eventually opted to serve and here we go….
08:28
While that Nadal match was going on, Nick Kyrgios and Thanasi Kokkinakis were causing a bonzer storm on Court, beating Puts and Venus, the number 6 seeds, in the men's doubles. They'd already sorted Mektic and Pavic, the number 1 seeds, and meets Zeballos and Granollers, the three seeds, in the semis.
08:18
I was delighted to see Madison Keys beat Barbora Krejcikova earlier today. Not because I've anything against the latter, but the former's renaissance is just so affirming. She's got so much talent, and I'm hoping that she's finally found the mental equilibrium to realise it to its fullest extent. The last time she went deep in a major, at the 2017 US Open, she meekly subsided in the final, losing 3 and 0 to her mate, Sloane Stephens. She meets the winner of Barty v Pegula in the last four, and if she could win that – admittedly a monstrous conditional – I'd fancy her to see off whichever of Collins, Cornet, Swiatek or Kanepi she met in the final.
08:12
In the Europsort, er … cube, they're saying that they don't see a killer shot in Pegula, who's solid but not much more. I can't disagree with that, and Barty would have to drop a 2/10 to lose this.
08:09
Just a little while ago, Denis Shapovalov fought, grunted and hauled his way back from two sets to love down against Rafael Nadal, only to lose his first service-game in the decider. I don't know if it got big on him, or if he lost concentration, but it didn't seem like a coincidence, and Nadal took the fifth 6-3. That will sting for quite some time, I shouldn't wonder, and though I don't think Nadal will win the thing, it would be typical if he did, taking advantage of Novak Djokovic's absence and making the final by beating almost no one.
08:00
Preamble
G'day, g'avo and g'evening; whatever time it is, wherever you are, it's Barty time. In a moment or two, one of sports most likable characters and one of tennis' most brilliant players takes on Jessica Pegula for a place in the semi-finals of her home grand slam.
Barty is in terrific form and totally outclassed the also brilliant Amanda Anisimova in her last match, but in Pegula finds a player finding herself. This is already her best major effort – her best efforts in all four have come in the last year – and Sunday's straight-sets win over Maria Sakkari was the performance of her career. So, you never know.
Er, OK, you probably do, but Barty is always fun to watch, and once the match is done we've got Mario Berrettini v Gaël Monfils which will be an absolute treat. Here we go!
Denial of responsibility!
NewsConcerns is an automatic aggregator of the all world's media. In each content, the hyperlink to the primary source is specified. All trademarks belong to their rightful owners, all materials to their authors. If you are the owner of the content and do not want us to publish your materials, please contact us by email –
admin@newsconcerns.com
. The content will be deleted within 24 hours.