Australia news live: Richard Marles reveals panel to oversee military shake-up; National Reconciliation Week begins | Australia news
Key events
Woman killed in three-vehicle collision
A woman has been killed and another man seriously injured after two cars and a truck collided in South Australia, AAP reports.
A 19-year-old woman died at the scene and a 18-year-old man was taken to hospital with serious injuries after the crash near Ki Ki, about 125 kilometres southeast of Adelaide.
The 35-year-old male truck driver was not injured in the collision, which is being investigated by major crash units.
Man avoids jail after drunken rampage in Indonesia
The Australian man arrested for an alleged drunken rampage in Indonesia has avoided jail after reaching a settlement with an assaulted fisherman, AAP reports.
Bodhi Mani Risby-Jones, 23, attended a reconciliation meeting on Friday with the fisherman who was injured during the April incident and agreed to pay him compensation.
The Queensland surfer had faced up to five years in jail after he was accused of emerging naked from his surf resort hotel room on the island of Simeulue, off the coast of Sumatra.
He reportedly chased and struck people in the streets of the island which is in the strongly Muslim and conservative Aceh province. The fisherman required dozens of stitches in his leg, leaving locals outraged.
On Friday Risby-Jones said in an interview broadcast on ABC TV it had taken a long time to find a peaceful resolution but it was good to finally get there.
Risby-Jones, while handcuffed and flanked by police, said:
Staying in an Indonesian cell for a month is hard for the body and for mental [wellbeing] … but considering everything, I think my health is doing good.
At the meeting he apologised to the fisherman and his wife and reportedly handed over brown bags full of cash as part of the settlement.
He also apologised to Indonesians, saying he was "very, very sorry for the grief I've caused".
Local authorities in Aceh said the amount agreed on was 250 million rupiah ($A25,000). The fisherman's family had originally sought around $A60,000.
Risby-Jones is expected to remain in custody until authorities sign off on the deal, allowing him to return home to Australia next month.
Exclusion zone around scene of Surry Hill's building blaze remains
The exclusion zone surrounding the building that caught fire in Sydney's Surry Hills on Thursday remains after an external wall moved 70mm over night, according to Fire and Rescue NSW.
The cause of the fire remains unknown, but two teenagers were assisting police with their inquiries on Friday after the "once in a decade" inferno consumed the seven-storey building.
On Friday, police said they were also "furiously" searching to locate two people who were among 15 sleeping rough in the building the night before the fire. They have confirmed 13 of those people were safe and well.
Fire and Rescue NSW said firefighters remain on the scene this morning as light smouldering from deep within the rubble continues. Emergency services are determining whether to undertake a controlled demolition of the building.
ABC's lack of ambition on coronation coverage left Stan Grant to shoulder outsized burden: Margaret Simons
The shortcomings in the media have been laid bare this week after Australia's most prominent Indigenous journalist, Stan Grant, stood aside from hosting ABC'S Q+A, citing the national broadcaster failed to support him against "relentless" racial abuse.
Margaret Simons has written how this is an important cultural moment to recognise objectivity to white journalists looks very different to those you are, as Grant says, "on the other side of history".
Those who protest that the golden oldies of the ABC – Kerry O'Brien, Tony Jones and so forth – would have never allowed themselves to become the story in this way miss the point. Indigenous journalists do not, and cannot, have the same relationship to the institution of the ABC, or the wider Australian media, as white journalists.
Read Simon's take here:
Women going through 'the change' left short-changed
Australian women are collectively short-changed in retirement an estimated $15.2bn per year due to earning and superannuation losses when they go through menopause, AAP reports.
The Australian Institute of Superannuation Trustees' estimate takes into account the impact untreated or severe menopause symptoms can have on women, including not seeking promotions, going part-time or taking early retirement.
Deputy CEO Mel Birks said cost estimates may vary but the evidence was irrefutable that untreated or severe menopause symptoms exact a heavy toll on women in the workforce.
Menopausal symptoms are one of the factors contributing to the gender gap that sees women retiring on average seven years earlier than men and with 30 per cent less in their superannuation accounts.
The Australian Council of Trade Unions has been urging employers to include paid menstrual and menopause leave arrangements in the workplace for some time.
The ACTU supports measures that improve women's workforce participation, increase flexibility and lead to better outcomes for women, both in work and in retirement.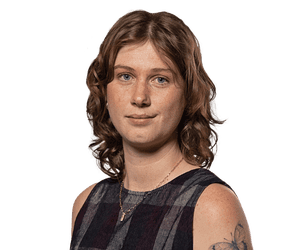 Jordyn Beazley
Happy Saturday, everyone! I'll be leading you through the latest developments this morning.
Adelaide rally against planned anti-protest crackdown
Unions in South Australia stepped up their campaign against the state government's planned anti-protest laws last night with a rally in Adelaide.
Widespread criticism and condemnation of the summary offences bill has grown, SA Unions said, and a coalition of community representatives and experts will also be staging a demonstration at Parliament House on Tuesday when the laws are to be introduced to the legislative council.
The SA Unions secretary, Dale Beasley, said:
These laws are unacceptable. The bill is a massive overreach, and a mess of unintended consequences. It must not proceed.
Not only have the government rushed this bill through the lower house, they are now rushing to make it law to stifle community outrage and expert legal opinions.
Good morning and welcome to our rolling news coverage this Saturday. I'm Martin Farrer and I'll be bringing you the best of our overnight stories before my colleague Jordyn Beazley fires up the computer.
Our top story is an exclusive reporting that David Littleproud has offered to help Labor bolster competition law protections for farmers and suppliers in a bid to prevent potential abuses of market power by Australia's big supermarkets. The Nationals leader proposes making the grocery code of conduct compulsory, boosting penalties to a "punitive" $10m maximum and adding powers to break up grocery giants in the event of misconduct. More on that coming up.
Former defence department boss Dennis Richardson is among past top bureaucrats appointed to independently oversee a major shake-up of Australia's military. An external advisory panel will oversee the rollout of the Defence Strategic Review recommendations. The panel will include Richardson, former finance department secretary Rosemary Huxtable and former foreign affairs deputy secretary Richard Maude. It will be co-chaired by the former federal minister Stephen Smith and ex-defence chief Sir Angus Houston, who wrote the review report. "Realising the review's ambition requires major reform," the defence minister, Richard Marles, said.
It is the start of Reconciliation Week and the theme for 2023 is "Be A Voice For Generation"', which honours those who fought for justice and those working to tackle the unfinished business of reconciliation, including the voice to parliament. Prof Megan Davis, who co-chairs the Uluru Dialogues and has been working on constitutional recognition for more than a decade, says this year's theme referencing the voice has particular resonance. She wants everyone to read – or reread – the Uluru Statement from the Heart and see for themselves what it says. "The Uluru Statement from the Heart has brought meat and bones and substance back to reconciliation," she said.
Denial of responsibility!
NewsConcerns is an automatic aggregator of the all world's media. In each content, the hyperlink to the primary source is specified. All trademarks belong to their rightful owners, all materials to their authors. If you are the owner of the content and do not want us to publish your materials, please contact us by email –
[email protected]
. The content will be deleted within 24 hours.